Hi everyone, hope you are well and having a good week? It's been so hectic here of late, but I've decided to take some time to tell you a little bit more about me!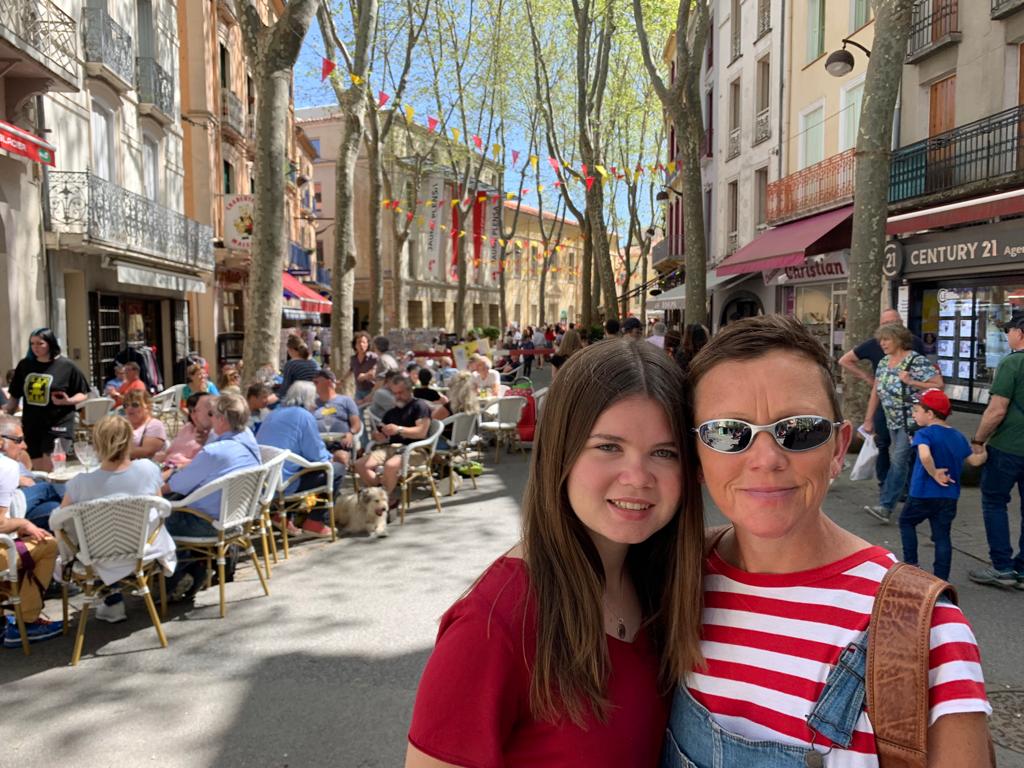 Hi everyone, hope you are well and having a good week? It's been so hectic here of late, but I've decided to take some time to tell you a little bit more about me! As you know, my name is Katy and I am married to Mick and have 2 children, Anna and Joseph. I live in Chalkwell and also have a house in Ceret & The Loire, France, where we can be found as much of the year as is possible!
My business (Joe & Anna Marketplace) came about due to a career change due to health condition. I was a teacher for 22 years, teaching secondary Design & Technology. I had to retire, about 6 years ago, on grounds of ill-health, as I suffer from Dysphonia, meaning I can only speak with a whisper, at times. I had to find some way of supplementing my income, that didn't involve using my voice, and that is how my e-commerce store came about, combined with my love of candles and wanting natural wax and scents, after my little boy reacted badly to paraffin fumes when he was a baby.
The history of my health condition is such that over the past twenty years I have had recurrent episodes of dysphonia and aphonia. This has been treated previously by some of the leading speech and language therapists in the country, both NHS and private. There have been episodes where my voice has returned to normal, but the duration is only very short lived with severe dysphonia and aphonia soon returning. I am currently with voice, which is fabulous.
Generally, when having an episode, I have a very severe dysphonia with a GRBAS score of 13 out of a maximum score of 15 with a voice handicap score of 91, indicating the severity of my dysphonia.
I had explored all avenues to try and resolve this problem from speech therapy, psychotherapy to use of voice amplification. This made any alternative career options somewhat limited, hence the launch of Joe and Anna Marketplace. 
At Joe and Anna Marketplace, my aim is to sell beautiful designs for print and luxury, affordable, sustainable candles with serious scents to fill your home. I believe that candles and good design, shouldn't be saved for special occasions – they should be an everyday luxury. Joe and Anna Marketplace is the home of a collection of candles and print that hopefully meet and delight you for all of your occasions. The apothecary styled, beautifully designed, affordable, sustainable candles, have a serious scent, which will hopefully provide something for everyone– all at prices you will love. 
It's wonderful and a privilege to be able to educate families, not only on picking yourself up and dusting yourself down, when life throws you a curve ball, but also on the damage that paraffin wax causes us, when using cheap, non-natural candles in the home.
Folk & Bespoke came about due to one of the girls who used to run events that I went to, stopping running them. I thought it was a shame for everyone who had gone to her events over the years, so I decided that I would give it a go! I really wanted to curate the artists though, and not just let everyone and anyone participate. I wanted to be fair to everyone exhibiting and ensure that there was a really talented and skilled collection of people that could come together and share their work, thus building a real following in terms of high quality products, committed vendors and a supportive audience. It's been a year and a half since I launched and It's been more successful than I could ever have imagined.
There have been numerous Folk & Bespoke events and the feedback has been great!
"It all looked great. So many stalls and such a wide range of lovely things. I visited as a customer and chatted with some really nice people. I'm looking forward to setting up my stall in June, even more now."
"I had such a lovely day- there was such a fab vibe and wow, what a talented bunch. Looking forward to seeing you again in June."
"It was a well organised event with a good selection of quality crafts."
"The layout and set up was brilliant, you must have spent ages organising the layout so we didn't have two stalls selling the same items next to each other."
"Thank you for the opportunity, I truly enjoyed having a stall at such a good location – lots of natural light, spacious, clean, music and great view."
"I thought the selection of businesses was varied and high quality. You also didn't pack us in too tightly which is appreciated!"
"I thought your social media has been strong, especially considering Folk and bespoke is so new and your communication leading up to the event was great."
"I visited your fair at the Cliffs yesterday & it was really refreshing to see lots of new stalls."
"Thank you for organising this event, it was so lovely to be in the company of so many talented local artists and craftsmen."
"Thank you so much Katy, such a well organised event. It was a pleasure meeting you and also the amazing artist, artisans and crafters. Well done for organising such an exceptional event."
"Well done Katy putting on a great event. Every crafter was amazingly talented."
"Thanks so much Katy – had such a great day and really enjoyed meeting you and the other amazing sellers."
"I came along as I love a good craft fair and it was really lovely to see so many new stalls, the makes & stalls were so professional. Wish I had got there earlier didn't give myself enough time to have a proper wander."
Have a lovely day!
Love, Katy x