Since completing my Masters degree in Fine Art in London, I worked in the Gallery system.   After a difficult health problem, I decided to go back to my studio practice.    After some years, I began to write stories and decided I would like to illustrate them myself.   The books here are the result!  I hope you like them. They are creating interest from Counsellors and professionals working the therapeutic field because the stories are created with the intention of helping and educating children.   The books can be read about individually in the shop pages.  They are designed to subtly and gently engage children who will enjoy the stories and illustrations whilst learning and being supported.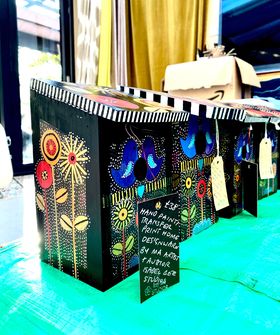 Bespoke Artist designed part hand painted part transfer print medium size birdhouses. Designed as interior pieces (the lid can be unscrewed and used as storage for small Items). Is a 3D wall piece but can be put outside as a birdhouse in warmer Months. Fully varnished. Design on all three sides and roof. Black back and underside. Studios stamped. Brass fittings. BLACK £38.00 per box COLOURED £48.00 per box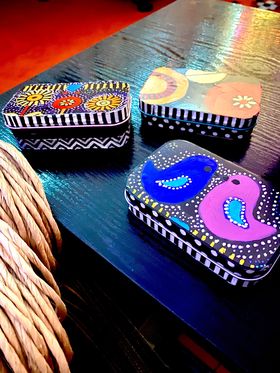 Tiny tins These tiny tins feature the Artist designs and decorative sides. Choose from spots, stripes or zig zags. They contain the following A mindfulness card A packet of bespoke Isabel Bee Studios wildflower seeds Two tiny wooden suck on bees A tiny flower Two wooden ladybirds Scented tea light Incense come Small glass vial containing a dried wild flower Perfect gifts or keepsakes £12.00 each
My books. Written and illustrated by myself. All available in Waterstones and offered in my webpage at a lower purchase price.